Lexis as most local context: towards an SFL approach to lexicology
Functional Linguistics
2017
4:17
Received: 26 July 2017
Accepted: 14 November 2017
Published: 22 November 2017
The world of lexis is vast and complex and it is generally accepted in psycholinguistics that it is represented as part of a large complex network. However, in systemic functional linguistics (SFL) modelling lexis has remained a relatively underdeveloped area of the theory. The ideas underpinning this paper stem from exploring the interface of context and lexicology, asking how SFL does and could handle lexis within the theory. Here the SFL concept of context is used to develop a similar account of lexis. The argumentation is based on the assumption that 'knowing about' context and 'knowing about' lexis is contained and maintained within a networked cognitive system. The common view of the relationship between context and lexis is generally one of disambiguation, frequently through collocation. However, I argue that there is more involved than that. In this paper, I use the SFL approach to context to establish the first steps towards an analogous approach to lexicology. The conclusion offered here is that it is theoretically plausible to draw on the dimension of instantiation, in a complementary way to delicacy, in order to model lexis as most local context, where the lexeme (or lemma) is modelled as meaning potential.
It will be clear to readers who are well-versed in the literature of systemic functional linguistics (SFL) that the title makes reference to a well cited phrase within the theory, 'lexis as most delicate grammar', originating in Halliday's 1961 paper and developed by Hasan (1996). This paper presents a new perspective on lexis within SFL theory by pursuing its study from a different theoretical dimension, that of instantiation rather than delicacy. For Halliday (1961:272), delicacy is "the scale of differentiation, or depth in detail" and it is clear from Hasan (1996) and also Martin (1992) that lexis as most delicate grammar is pursued along this dimension, which runs through the lexicogrammatical stratum and is generally represented as a system network of options. As Martin (1992:278) explains, "looked at from the perspective of grammar lexis is not different in kind but simply different in generality." The least delicate options are extended in increasing differentiation within the network to the most delicate options.
As attractive as it may seem to model lexis as most delicate grammar, it is not without problems as will be discussed below. This paper introduces a new theoretical perspective on lexis in SFL theory by developing it within a different dimension, instantiation, which as will be shown, leads to a different approach – lexis as most local context. Looked at from the perspective of instantiation, lexis can be seen in terms of meaning potential and as I argue in this paper, through this lens, the SFL concept of 'context' can be extended to account for the relationship between a lexeme (or lemma) and its instantiation as a lexical item in text. This is a potentially exciting development since it can offer a bridge between the more textually oriented theory of SFL and the more lexically driven approaches to lexis as typically found within corpus linguistics.
The two dimensions mentioned above, delicacy and instantiation, provide complementary rather than contradictory approaches. Work on lexis within SFL is scarce as will be discussed below and as with most challenging areas, there is merit in tackling a problem from more than one angle. The realm of word study is the domain of lexicology and so it seems sensible to ask whether there is any common ground to be found between this more bottom up approach to the lexico-grammar and SFL's more top down approach. The point of departure and the nature of the concerns are very different. Lexicologists tend to start with the word as the unit of study and work outwards, where outwards can mean into the mind or lexicon (typically psycholinguistics and to some extent cognitive linguistics) or into (co-)text and beyond (typically corpus linguistics). Lexicology covers all areas of interest related to what we think of as the word from lexical semantics to etymology and morphology, including the general area of phraseology. When it comes to phraseology, connections to context offer a potential area of common interest to the two perspectives on the lexico-grammar. What they share to some extent is an interest in lexico-grammar and in data that focusses on "the occurrence of patterns which lie somewhere between abstract structures and individual lexical items or combinations of these" (Butler, 2013:206). The interface of context and lexicology spans the range of lexical studies from the more cognitive perspective to the more social perspective.
Given the focus within systemic functional linguistics (SFL) on language as socially-oriented semiotic, it can sometimes seem that the study of context and the study of lexis are worlds apart but they are not. We tend to think, metaphorically, that the word is a small unit and language is a much bigger unit but perhaps this is not actually the case. As Mel'ćuk (1981:57) says, 'not only every language but every lexeme of a language is an entire world in itself'. The world of the word is vast and complex and it is generally accepted that it is represented as part of a large complex network. The 'knowing about' a context and the 'knowing about' a word is contained and maintained within an individual's networked cognitive system. In this sense, there is perhaps not as much difference between knowing about a context and knowing about a word as we might have thought. This is an especially provocative thought if we consider how the concepts of meaning potential and instantiation apply to both.
As we move forward in this discussion, I propose another metaphor for the study of lexis, that of the Tardis from the BBC science fiction television series Doctor Who. The Tardis is remarkable, not only because it can travel through time and space but precisely because it is bigger on the inside. We find, with the lexeme, multiple dimensions which challenge our linguistic notions of size and relativity. Halliday has developed not only a multi-functional approach to language but also a multi-dimensional one. Halliday and Matthiessen (
2014
:20) identify five dimensions: structure or syntagmatic order (rank); system or paradigmatic order (delicacy); stratification (realization); instantiation; and metafunction. Figure
1
illustrates how instantiation and delicacy can be represented as distinct dimensions.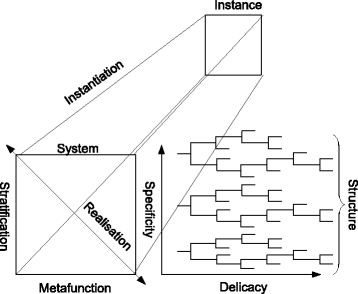 In this paper, I will propose some ways in which lexis can be explored by examining the dimension of instantiation and considering how the SFL approach to context can be applied to lexis. The main aim of the paper is to develop a new approach to the study of lexis within SFL. Drawing substantially from Halliday (1991) and Hanks (2013), I will use the SFL approach to context to argue for the need for an analogous approach to lexicology.
The paper will be organized as follows. The next section will situate lexicology in relation to SFL and outline the view of context adopted for the purposes of this paper, moving towards questions related to lexis and lexical representation in particular. Section 3 examines the current status of lexicology within the SFL framework and it argues for the need for a flexible lexicon (García Velasco, 2016). Section 4 considers the relationship between the meaning potential (Hanks, 2013) of a lexeme and the meaning of a word in use. Finally, section 5 closes the paper by addressing the question of whether it makes sense to talk about lexical meaning in SFL. I suggest that the framework for representing context could be applied by analogy to lexical representation. In this view, lexis is seen, not as most delicate grammar, but as most local context.
Acknowledgements
An earlier version of this paper was presented at the 1st Halliday-Hasan International Forum on Language. Context Studies: Advancing Theory and Exploring Functions, Guangdong University of Foreign Studies, Saturday 3 December 2016. I would like to thank Rebekah Wegener and Chris Butler for very helpful comments on earlier drafts.
Availability of data and materials
Not applicable.
Authors' contributions
Not applicable.
Competing interest
The authors declare that they have no competing interests.
Ethics approval and consent to participate
The data collected for this paper comply with Cardiff University ethics procedures.
Consent for publication
Not applicable.
Open AccessThis article is distributed under the terms of the Creative Commons Attribution 4.0 International License (http://creativecommons.org/licenses/by/4.0/), which permits unrestricted use, distribution, and reproduction in any medium, provided you give appropriate credit to the original author(s) and the source, provide a link to the Creative Commons license, and indicate if changes were made.
(1)
Cardiff University, Cardiff, UK